Description
Animated/Talking Polar Bears
Lovable Polar Bears can be ordered in a several positions with a wide variety of economical movements. Units feature durable urethane sculpted heads with full mouths with teeth, gums, tongue, paws and glass eyes. Built to last with solid steel internal construction Bears are sturdy but still light weight enough to be portable. 100% designed for continuous outdoor use no matter what the weather, featuring realistic water resistant synthetic fur and urethane components
All electrical and are powered by 12vdc linear actuators and servos. Internal controls and audio system with built in ambient programming for lifelike movements and sensor triggering of chosen dialogue and movements. Includes initial programming session to make them say and do exactly what you want.
Programmable Movements
Mouth- Open/Close
Head@Neck- Pan Left/Right
Tilt Forward/Back
Tilt Left/Right
Left Arm@Shoulder- Raise/Lower
Left Arm@Elbow- Wave Left/Right
AMBIENT MODE
1. Welcome/Information
2. Sing a Song/Tell a Story
3. Provide Directions/Schedules
4. Promote Upcoming Events
Sample Request for Photo Op
1. I hope that you are having a wonderful time, I was wondering if we could possible get a photo together?
PUSH BUTTON INTERACTIVE MODE
Premium Wireless
Transmitter/Trigger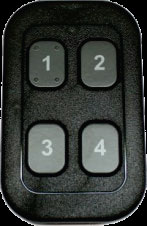 PUSHBUTTON #1
ASK PHOTO
OP STACK
Stack of 10+
Photo Requests
PUSHBUTTON #2
POSITIVE
RESPONSE
Stack of 15+
+ Responses
PUSHBUTTON #3
NEGATIVE
RESPONSE
Stack of 15+
– Responses
PUSHBUTTON #4
Thank for Photo
On to Next Guest
ESCAPE TO AMBIENT
Stack of 15+