Christmas Animatronic Magic
Character's Serviceability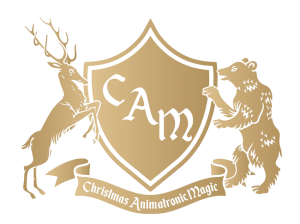 Each of our characters are priced with an initial custom programming session built-in allowing our customers the opportunity to customize their new character to say and perform exactly what they would like it to.
Our characters are designed to:
Inform: as a greeter, to provide information and welcome guests.
Entertain: Perform Songs, Tell Stories, provide background atmosphere at events.
InterAct: Elicit live interactions with patrons via remote control
Upon purchase clients are requested to provide instructions and an outline detailing how they would like to initially use their new character.
For example, if the Smith Family purchases our Deluxe Animated Christmas Tree they may decide to have the Tree perform a list of the family's favorite Christmas carols, to at the push of a button recite the poem "Twas the Night Before Christmas" and to randomly wish everyone a Merry Christmas from the named members of the Smith Family. Our technicians would then program and video tape the Tree's performance for the family's approval and once approved would ship the tree to the Smith family. The Tree would arrive plug and play ready for the Smiths. The Smith's would simply have to plug the tree into any standard household electrical outlet and away we go, providing them with the instant gratification of having a custom and personalized animated talking, signing Christmas Tree that expresses the sentiments of their family. They of course can now decorate the tree any way they like and use it in the variety of ways as described above. Next year, if they decide that they would like the Tree to do something completely different they simply email us new instructions, our technicians videotape the new performances on one of our in-studio Trees for approval and once approved we email them a new file which they drag onto the SD card on the controller on their Tree and their Tree is instantly re-programmed with all of their new performances for the new year.
Controllers.
Controllers
We have proudly teamed up with the folks at Fright Ideas whose engineers, since 2004, have brought reliability, ease of use and great customer support to the industry to marry PLCs, sound boards, and custom controllers to market. Their engineers work closely with us to develop timely solutions to emerging technologies. Their full line of Flex and FlexMax controllers feature solid state outputs, MP3 Audio/ 50 watt internal Amplifiers, internal show memory, DMX lighting and Servo control and are all real-time programmable without the need to learn a programming language. Their handheld infield programming units require no power and allow field technicians to go into hostel environments and completely re-program a character without the need of a computer.
The good news is that if a client's controller ever gets lost or damaged it can instantly be swapped with a new one and the internal SD Card can be replaced instantly reprogramming the character. All internal wiring is on pop-off wiring terminals so swapping controls literally takes just a few seconds to pop off the terminals, push them on the new controller, put in the SD card and you are back in business.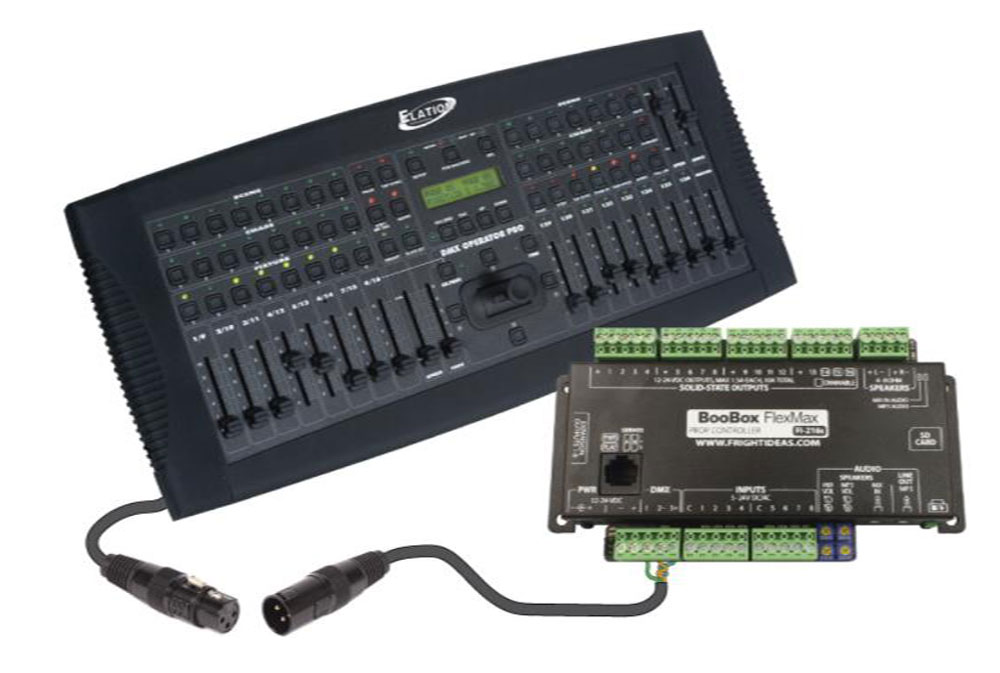 Linear Actuators
We proudly use Glideforce all aluminum frame and extension tube linear actuators. These ball screw linear actuators were developed for industrial, agricultural, automotive and off-highway applications and are ideally suited for our characters as they feature all steel construction with metal drive gears which ensure tremendous durability and reliability.

Nema 4 Enclosure
All of our characters are converted to a safe 12vdc system and all controllers, relays, power supplies and all electrical components are neatly arranged, mounted and labelled within the provided Nema 4 enclosure that is typically strategically placed within an easy access door hidden inside the character.
All internal moving joints feature self-lubricating bushing or bearings to provide maintenance free solutions to moving parts. All metal surfaces are plasti dipped to prevent discoloration or corrosion. All character's internal steel structures are wrapped and sealed in 6 mil visqueen to create a vapor barrier before synthetic fur or fabric coverings are adhered.
All of our characters are designed to be light weight enough that two people can easily carry and place them yet stout enough that they are self-supported with internal steel frames, so that they will not blow over (each character features ½" diameter holes for ground stake mounting in the four corners of their bases).
Guarantees
Christmas Animatronic Magic or CAM does herein provide the following warranties for all of its products. CAM shall maintain and provide technical support personnel both via telephone and via email to properly address any performance issues associated with its products. CAM shall also facilitate training sessions both on-site and in studio when and where available or requested.
Character components have been executed with a unique modular design, each of the components have been implemented utilizing a standalone plug-and-play strategy. In this way if one character component should fail, the others will not be affected and therefore the entire character performance may still be viable and hopefully a failure may not even be noticeable to patrons. It also facilitates a fast, easy and economical modular replacement strategy for any part which may fail. To facilitate the immediate replacement of any failed part, CAM shall manufacture and have available for immediate shipment a quantity of replacements for each of every component contained within each and every character. CAM herein warrants that each piece shall be free of defects and shall operate correctly for a period of (1) year. Linear Actuators– All of the linear actuators contained within the automated equipment shall be guaranteed by the manufacturer for a period of (2) years. All electrical components shall be guaranteed against defects in materials and workmanship for a period of (1) year. For the period after the first 12 months and up to 36 months from purchase, CAM shall continue to make immediately available replacement components for PURCHASER, however the shipping and repair costs shall be the responsibility of PURCHASER. For the period of 36 months CAM shall provide to PURCHASER telephone technical support at no charge.