Description
Our jolly snowmen are the perfect characters to inform, entertain or interact with your guests at your next Christmas event. Whether they are cheerfully greeting your arriving guests, providing atmosphere singing Christmas carols, entertaining the children with a story, or even asking for a quick selfie to promote your event on social media…these guys know how to work crowd and will be the hit at any Holiday gathering.
Rudy is a scale built lovable Reindeer with lots of personality. Built to last with solid steel internal construction he is sturdy but still light weight enough to make him portable. Features realistic water resistance synthetic fur and urethane antlers. On board controls, audio, logic, speakers- he is plug and play. Price includes initial programming, logic and voice session- so when he arrives you plug him into a 110vac wall outlet and he is completely operable with your directed show programming installed tested and video proofed for your approval
Designed for continuous outdoor use no matter what the weather. All of our characters are all electrical and are powered by 12vdc linear actuators and servos.
Programmable Movements
Eyes Left/Right
Ears Forward/Back
Lower Jaw Open/Close
Left/Right
Head@Neck Up/Down
Pan/Left
Pan/Right
Tilt/Clock
Tilt/Counter
Neck@Shoulder Up/Down
Left/Right
Sample Reindeer AMBIENT MODE
1. Eating/Burping
2. Shaking, scratching
3. Nudging feed bucket
4. Rubbing antlers fence/lightpost
Sample Questions
1. Hey Kid, what are ya going to ask the big guy for Christmas this year?
2. Not to worry ya or nothing, but uh you been pretty good this year.. Ya know the guys got a list right, I mean he checks it all the time.
3. Hey let me ask you a favor, I know Everybody leaves cookies & milk for Santa..but help me spread the word…Reindeer like apples, not carrots…tell everybody leave big fat juicy apples for the reindeer… no more carrots…
4. Hey what's your favorite Christmas Song?
PUSH BUTTON INTERACTIVE MODE
Premium Wireless
Transmitter/Trigger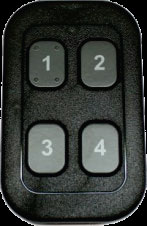 PUSHBUTTON #1
ASK CHILD
QUESTION
Stack of 15 Questions
PUSHBUTTON #2
POSITIVE
RESPONSE
Stack of 15 +Responses
PUSHBUTTON #3
NEGATIVE
RESPONSE
Stack of 15-Responses
PUSHBUTTON #4
CONFUSED
DON'T UNDERSTAND
ESCAPE TO AMBIENT
Stack of 15 Ambivalent Responses