Description
Rudy the Reindeer $6,995.00
Rudy is a scale built lovable Reindeer with lots of personality. Built to last with solid steel internal construction he is sturdy but still light weight enough to make him portable. Features realistic water resistance synthetic fur and urethane antlers. Movements include JAW open/close, side/side, EYES left/right, EARS forward/back, HEAD@NECK up/down, pan, tilt, NECK@SHOULDER up/down, left/right.
Add Decorative Stall with lights and trimmings as pictured $995.00
Show Control System 1 Included
16-Channel Controller with solid state outputs, MP3 Audio/50 watt internal amplifier, internal show memeory, DMX lighting and Servo control. Features internal SD card program storage for show backup and quick updates over the internet.
External Bookshelf Speakers 1 Included
Stack Logic InterActive Mode with wireless remote and pocket transmitter $195.00
InterActive Reindeer Christmas Trivia Vignette Total Cost $8,185.00
Movements include
 JAW open/close
side/side
EYES left/right
EARS forward/back
HEAD@NECK up/down, pan, tilt,
NECK@SHOULDER up/down, left/right.
AMBIENT MODE
1. Eating/Burping
2. Shaking, scratching
3. Nudging feed bucket
4. Rubbing antlers fence/lightpost
Human operator controls Animatronic Reindeer with (4) Button Wireless remote in pocket.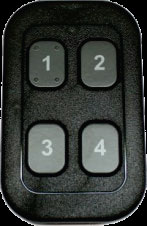 PUSHBUTTON #1
ASK CHILD
QUESTION
Stack of 15 Questions
PUSHBUTTON #2
POSITIVE
RESPONSE
Stack of 15 +Responses
PUSHBUTTON #3
NEGATIVE
RESPONSE
Stack of 15-Responses
PUSHBUTTON #4
CONFUSED
DON'T UNDERSTAND
ESCAPE TO AMBIENT
Stack of 15 Ambivalent Responses