Description
Our jolly snowmen are the perfect characters to inform, entertain or interact with your guests at your next Christmas event. Whether they are cheerfully greeting your arriving guests, providing atmosphere singing Christmas carols, entertaining the children with a story, or even asking for a quick selfie to promote your event on social media…these guys know how to work crowd and will be the hit at any Holiday gathering.
Winston features durable weather resistant urethane hat, hands, and facial features and synthetic fiber covering. Umbrella and illuminated twinkling Icicle lantern included.
Programmable Movements
Eye Brows Up/Down
Mouth Open/Close
Head@Neck Pan/Left/Right
Tilt/Forward/Back
Left Arm Raise
Extend
Upper Torso Rotation
Built to last with solid steel internal construction he is sturdy but still light weight enough to make him portable. On board controls, audio, logic, speakers- he is plug and play. Price includes initial programming, logic and voice session- so when he arrives you plug him into a 110vac wall outlet and he is completely operable with your directed show programming installed tested and video proofed for your approval.
AMBIENT MODE
Sample Greeter/Photo Op
1. Welcome/Information
2. Sing a Song/Tell a Story
3. Provide Directions/Schedules
4. Promote Upcoming Events
Sample Request for Photo Op Stack
 "I hope that you are having a wonderful time, I was wondering if we could possible get a photo together?"
PUSH BUTTON INTERACTIVE MODE
Premium Wireless
Transmitter/Trigger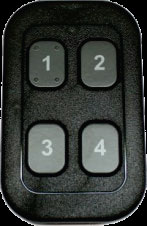 PUSHBUTTON #1
ASK PHOTO OP STACK
Stack of 10+
Photo Requests
PUSHBUTTON #2
POSITIVE RESPONSE
Stack of 15+
+ Responses
PUSHBUTTON #3
NEGATIVE RESPONSE
Stack of 15+
– Responses
PUSHBUTTON #4
Thank for Photo
On to Next Guest
ESCAPE TO AMBIENT